IVCC Response to COVID-19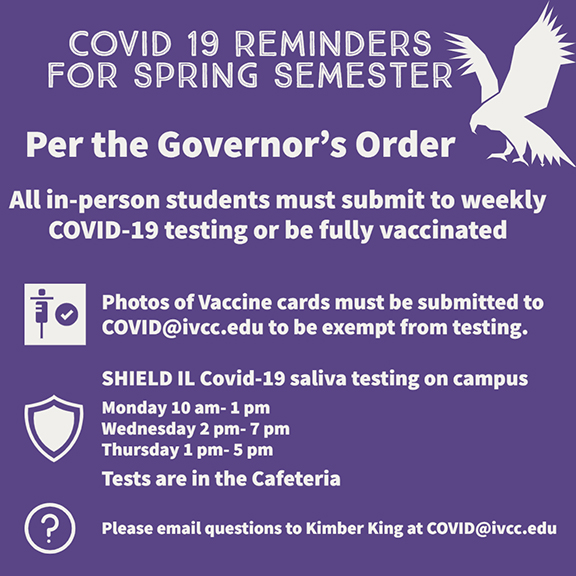 Last updated: January 21, 2022 - en español
COVID-19 Confirmed Cases

Current week
January 10 - 16

cumulative since august 14, 2020

students
21
141
Employees
5
55
total
26
196
Table updated on January 21, 2022
Vaccination Verification
On August 29, 2021, the Governor of Illinois announced Executive Order No. 87 Section 3 mandating that all students, staff, and faculty of higher education institutions be fully vaccinated or be tested for COVID-19 weekly. In response to this mandate, Illinois Valley Community College has established this protocol for meeting the requirements of the Executive Order.
Students can now log their vaccination status in Enrollment Services, CTC-101. Each fully vaccinated student will be given a $100 giftcard to the IVCC Bookstore.
Mondays, Thursdays, & Fridays from 8:00 am - 4:30 pm
Tuesdays & Wednesdays from 8:00 am - 7:00 pm
If a student chooses to not provide a copy of the official vaccination card, he or she will be enrolled in a weekly testing program through SHIELD Illinois saliva-based Covid testing program, which is held on IVCC's Main Campus. More information on SHIELD Illinois saliva-based Covid testing at IVCC can be found here: https://www.ivcc.edu/covid19/shield.php.
A person is considered fully vaccinated two weeks after receiving the second dose in a two-dose series of a COVID-19 vaccine authorized for emergency use, licensed, or otherwise approved by the United States FDA, or two weeks after receiving a single-dose of a COVID-19 vaccine authorized for emergency use, licensed, or otherwise approved by the United States FDA.
Vaccination clinics and locations
Upcoming IDPH vaccinations clinic at IVCC
Free COVID-19 vaccination clinics are set for 10 a.m. to 2 p.m. on Jan. 25 and Feb. 15 in CTC124.
For individuals 18 and older, Moderna and Johnson & Johnson vaccines will be available as well as Pfizer and Moderna booster shots.
The Pfizer-BioNTech vaccine, authorized and recommended for those 12 and older, will also be available.
Walk-ins are welcome but advanced registration is encouraged at
https://idph-mychart.pchosted.com/IDPH/signupandschedule/embeddedschedule?vt=24629&dept=9001410011355
Masks Required On-campus Beginning Monday, August 2, 2021
Face masks will be required indoors on-campus beginning Monday, Aug. 2 and will continue for the time being into the fall semester. President Jerry Corcoran announced July 28 masks will be required for all students, faculty, staff and visitors in classrooms, labs and common areas. The mandate applies to both the vaccinated and unvaccinated.
"Masks have proven highly-effective in protecting people from the virus. Universal masking also sets the same expectations for everyone and lifts the burden of faculty having to monitor each students' vaccination status," Corcoran said.
Also noteworthy regarding the decision:
The CDC recommended July 27 even vaccinated people return to mask-wearing in public indoor spaces in parts of the U.S. where the delta variant is surging.
CDC also released a strict recommendation for K-12 students to wear masks while attending school.
Self-verification forms will again be issued asking employees and students to pledge to stay home if experiencing COVID-like symptoms.
Shield Illinois will provide rapid-testing results beginning Aug. 23.
It was supported by the college's academic deans.
Exceptions to mask wearing in the classroom or lab must be approved by Vice President for Academic Affairs Deborah Anderson.
"Adding face masks to the plan is another layer of protection," Corcoran said. "Our response to every hurdle we've encountered has been impressive. I am proud of our employees' resilience and professionalism."
IVCC Response to COVID-19 for Employees
Visit this page for employee-specific information
Students: Who to Contact with Immediate Health Concerns
Students with immediate health concerns, such as a positive test result or potential exposure to COVID, should contact Mark Grzybowski, Vice President of Student Services, mark_grzybowski@ivcc.edu, 815-224-0393.
***If contacted by the IDPH (or County Health Department) as part of contact tracing, please use your local, home addresses and accurate identification information.***
Before Coming to IVCC
Check your class schedule and know if/when your classes meet on campus or online. Not sure how your class works? Check the delivery web page for information. Pay attention to section numbers, locations, and meeting information. Please note: If your class shows meeting days of TR, it meets on Tuesdays and Thursdays. If it only shows T, it meets on Tuesdays. If it only shows R, it meets on Thursdays.

Internet Classes do not have meeting days and times and are fully online
Virtual Class Meeting Classes have meeting days and times and are fully online
Blended Internet, Blended Main Campus, and Blended Ottawa Center classes have meeting days and times on campus and meet online
In-person classes are on campus and have meeting days, times, and locations

Give yourself enough time to arrive, park, and enter the building where temperature checking will take place
Stay home and notify your instructors if you are feeling sick
Due to staffing issues, IVCC's food vendor is unable to provide meals at this time. Food and drinks are available in the cafeteria vending machines, and there is a snack machine outside Counseling.
Computer and Internet Access
Wifi is available at IVCC locations
Ottawa Center computer lab
Academic Support Center, Oglesby Campus, A-201
Loaner webcams are available in the Academic Support Center, A-201
We recommend personal earbuds or headsets be used; we may have a limited supply to provide.
Need help?