Dental Assisting
Dental Assisting Certificate
Dental Assisting Guidesheet
Dental Assisting Course List
Dental Assisting Flyer
Interested in Dental Hygiene at IVCC? Click here for more information!
Dental Assisting Admissions Procedure
Commission on Dental Accreditation Posting Form for Third Party Comments
Dental Assisting Program Application
Dental Office Managment Application
Dental Clinic Webpage
Coronal Scaling- In-Office Observation Form
Policy on Distance Education
Communicable Diseases and Bloodborne Pathogen Policy
IVCC Dental Clinic HIPAA Notice of Privacy Practices
IVCC Dental Clinic-Patient Consent Form
IVCC Dental Clinic- Patient Bill of Rights
What is Dental Assisting?
A dental assistant is an important member of an efficient dental team--providing a valuable service to both the office and the patient. An assistant anticipates the need of a dentist and aids in intraoral procedures, takes x-rays, prepares lab work, is responsible for disinfectinon/sterilization protocols, and can also perform office administrative duties.
Program Options
Illinois Valley Community College's Dental Assisting Program is completed in three semesters or one full year. After the completion of the required courses, you will receive a Certificate in Dental Assisting. Students successfully completing the Dental Assisting Program at Illinois Valley Community College will be considered Expanded Functions Dental Assistants (EFDA). This is a designation that is currently only awarded to graduates of IVCC's Dental Assisting Program.
Additional Certificates will also be awarded after the successful completion of the program including:
Expanded Functions Dental Assistant


Coronal Polish
Enamel Sealants
Nitrous oxide monitoring
Vitality testing
Composite placement
Amalgam placement
Final impressions (material and digital)

Coronal Scaling
Prerequisite: Must be currently certified in BLS for healthcare providers or its equivalent and have successfully completed an approved coronal polishing course. A copy of your current BLS card and Coronal Polish Certificate must accompany registration form. Illinois Valley Community College is an approved provider of continuing education in the State of Illinois.
Instructors: Mrs. Lyndsey Beetz, BSDH RDH CDA
A dental assistant who has at least 2,000 hours of direct clinical patient care experience and who has successfully completed an approved coronal polishing certification course is eligible to attend the coronal scaling course.
The dental assistant is limited to the use of hand instruments. The coronal scaling is limited to above the gum line, supragingivally, on the clinical crown of the tooth of a patient 12 years of age or younger, who have an absence of periodontal disease and who are not medically compromised or individuals with special needs.
This course includes 16 hours of instruction in both didactic and clinical manikin instruction in the areas of study in dental anatomy, public health dentistry, medical history, dental emergencies, and managing the pediatric patient.
After successfully completion of the course, the supervising dentist must observe and approve the completion of six full mouth supragingival scaling procedures before the Coronal Scaling Certificate is awarded. You will have one- year to complete these six full mouth supragingival scaling procedures.
Sixteen continuing education hours will be awarded through the Continuing Education Office upon completion of the course.
Certified Dental Assistant (CDA)

After successful completion of IVCC's Dental Assisting Program, students are eligble to sit for the Dental Assisting National Board Exam to become Certified Dental Assistants. This prestigious title offers higher wages, and superior knowlege.

AAS in Dental Assisting

Students have the opportunity to complete an additional 19 credit hours of general education courses chosen from the Gen Ed Package, and obtain an AAS in Dental Assisting.
Features of the Program
IVCC's Dental Assisting Program prepares you for an active role in dentistry through classroom, laboratory, and hands-on experiences in modern, high-tech facilities where highly experienced and qualified dental professionals teach and supervise all on- and off-campus activities. Members of the dental community also donate their time and expertise to the program to ensure well-rounded and highly trained dental assistants enter the workforce.
Affordability
IVCC tuition is just one-third to one-fourth the cost of state universities and far below most private institutions. An approximation of tuition and fees and cost comparison can be found on the IVCC website at www.ivcc.edu/payment and at www.ivcc.edu/save.
Many scholarship opportunities are available through the IVCC Foundation at
www.ivcc.edu/foundation and Financial Aid is available for those who qualify at www.ivcc.edu/financialaid.
Careers in Dental Assisting
Find out more about Dental Assisting Careers at www.mynextmove.org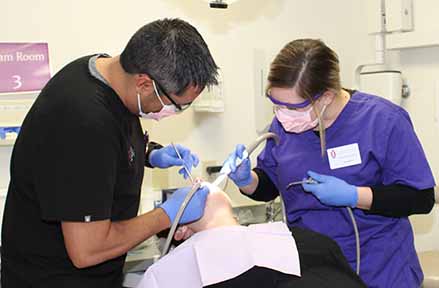 Career Options in Dental Assisting
Added Subtitle
Private and Group Practices
Specialty Practices
Public Health Dentistry
Dental School Clinical
Hospitals
Insurance Companies
Education
Dental Laboratory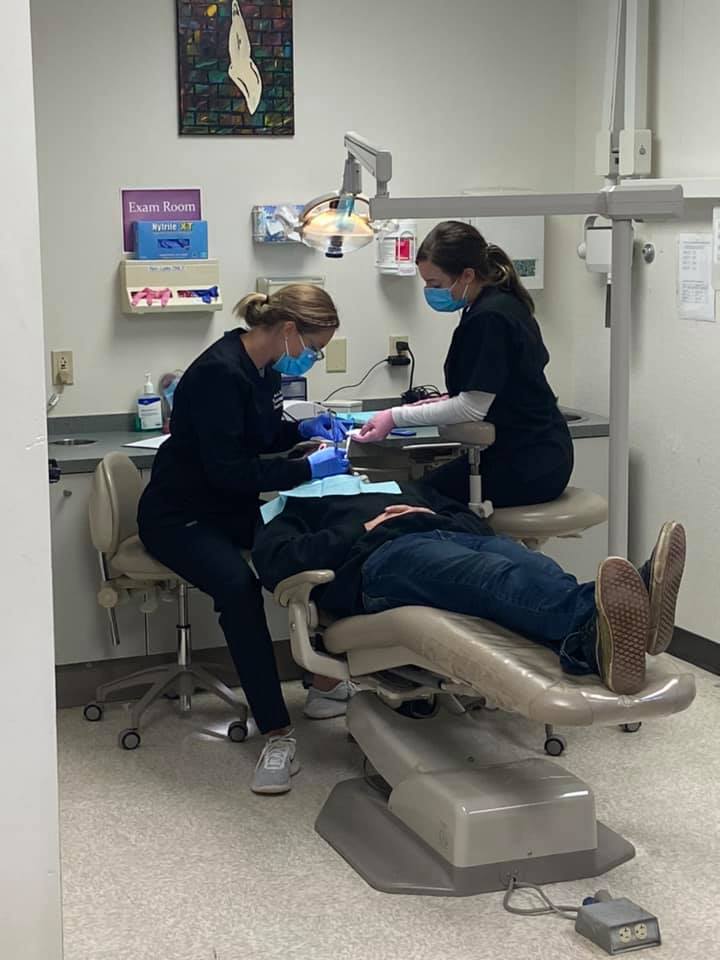 A Few Things Dental Assistants Do
Direct patient care
Four or six-handed dentistry
Office management
Fabricating oral appliances
Oral hygiene instruction
Obtaining medical/dental history
Patient Assessment
Vital signs
Post-op instructions
Inventory/Supply Ordering
Impressions
Digital, Film, Phosphor Plate Radiographs
Coronal Polish (EFDA)
Coronal Scaling (EFDA)
Enamel Sealants (EFDA)
Place Amalgam and Composite Restorations (under dentist supervision) (EFDA)
Material/Digital Finam Impressions (EFDA)
Tooth Vitality Testing (EFDA)
Program Coordinator and PT Faculty/Lab Instructors
Commission on Dental Accreditation Guidelines for Filing a Formal Complaint Against an Educational Program
Commission on Dental Accreditation- Policy on Third Party Comments