Continuing Education and Business Training Services
*Important Information* Updated January 5, 2021
As we prepare for the Spring 2021 semester, we are excited to launch our early spring schedule, online and face-to-face classes. Yet, with so much uncertainty lingering, we want to share some guarantees that we have in place for you.
An Empowering Safety Plan | We guarantee to have specific plans in place for our students, instructors and staff to help reduce the risk of spreading viruses as we return to campus locations. Guidelines are updated periodically as new information becomes available. Read more about our current health and safety guidelines [Read Guidelines Now]. Please be sure to check this link for up-to-date information prior to attending class.
A No-Nonsense Refund Policy | We guarantee that if you register for a class and we are the ones who have to cancel, you will get a full refund. We have put a new temporary refund policy in place, because we get that life happens too - if you need to cancel, simply notify us at least one business day before the class start date for your money back as well. *Please note refund policies vary for some online courses and career training programs.
A Fantastic Class Lineup | We guarantee that we are still offering relevant, high-demand job skill training as well as opportunities that foster fun lifelong learning experiences. Whether you choose online, online-interactive or face-to-face, or curbside formats, we are coming up with new ideas just for you.

We are proud to be a resource for you and are grateful to be a part of your journey as a lifelong learner. We can't wait to see you in upcoming classes, in person or virtually! - The IVCC Continuing Education & Business Training Center
Direct me to Cancellations for Credit Classes & other Campus Events
*Important* Before you Visit IVCC | Current Guidelines Phase IV

Community Education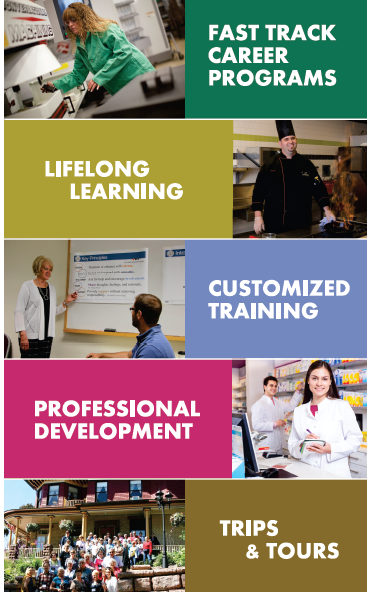 Activities and cultural experiences to enrich your life, improve your health, explore hobbies and the arts, travel and continue your lifelong learning ed'venture.
Continuing and Professional Education
For the work force and career seekers to acquire skills needed to improve work performance, achieve professional certification, complete continuing education requirements or explore a new career path.
Business Training Center
Provides consulting and training solutions designed to help local companies maintain a competitive operation and a skilled, knowledgeable workforce.