IVCC's William Taylor named ICCTA's Distinguished Alumnus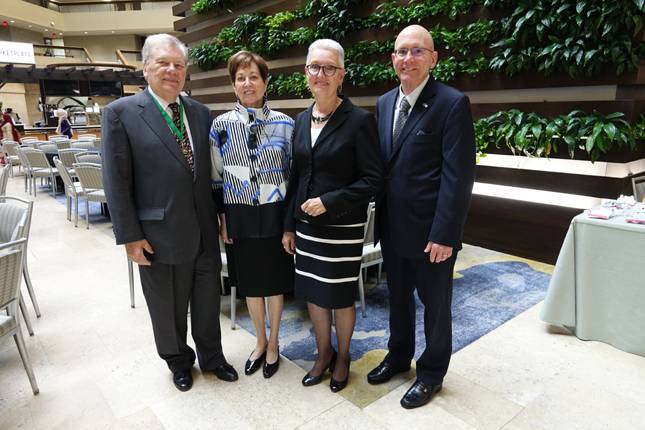 La Salle native and Illinois Valley Community College graduate William Taylor was named the 2019 Illinois Community College Trustees Association Distinguished Alumnus Friday night in Itasca.
Taylor of Winnetka, a 1962 graduate of IVCC predecessor LPO Junior College, received the honor at the annual ICCTA convention awards banquet.
Winning the award over 20 other nominees, Taylor is the third IVCC graduate – and the first in 29 years – to earn the distinction.
Former Illinois Supreme Court Judge Howard C. Ryan of Tonica, LPO 1935, won the ICCTA's first alumni award in 1985 and was followed by 1932 LPO alum and University of Chicago professor emeritus Dr. Henrietta Herbolsheimer in 1990.
"To say Bill is a model alumnus and donor does not do him justice," said IVCC President Jerry Corcoran. "He is distinguished from many successful individuals by his coming back to the educational institutions he credits for his success, and investing his time and financial resources to provide the opportunity for others to succeed."
Since retiring in 2005 as a lead partner for Big 4 accounting firm Deloitte, Taylor has devoted his life to philanthropy and donated about a million dollars to his alma maters, IVCC and Northern Illinois University.
He donated $150,000 to two IVCC fundraising campaigns and his largesse has directly benefitted as many as 19 current and former IVCC students in a single year.
More than just monetary gifts, Taylor and his wife Dian have developed friendships with many of their scholarship recipients. When IVCC alum Thanh Nguyen, a Vietnamese exchange student, had no family to witness her graduation from NIU, the Taylors were there to celebrate with her. The former Dian Lechner is also a graduate of IVCC and NIU.
Taylor has spoken to IVCC accounting classes and sponsored bus trips from IVCC to NIU. Other contributions include:
Annually funding 10 IVCC scholarships at $1,250 per student.
Providing $14,000 in seed money to create IVCC's alumni coordinator position.
A charter member of the IVCC Foundation's 21st Century Scholars Society, a $500 annual commitment.
Creating the William and Dian Taylor Professor of Accountancy at NIU.
Full-tuition scholarships to NIU for IVCC transfers in accounting and STEM-related fields. The two awards, for the student's junior and senior year, are worth approximately $25,000 to each student.
Former treasurer and current board member, NIU Foundation.
Friday's honor is just the latest for Taylor including:
NIU College of Business Outstanding Accountancy Alumnus, 2000;
Keynote speaker, IVCC commencement, 2007;
IVCC Alumnus of the Year and Spirit Award winner, 2008;
IVCC-LPO Hall of Fame inductee, 2009;
NIU Foundation Volunteer Service Award, 2011;
IVCC counseling area named the William & Dian Taylor Student Development Commons, 2014.
"Rather than recognition, what drives Bill is his passion to provide opportunity for others. Bill and Dian continue to make a significant difference in the lives of young people through education," said Fran Brolley, IVCC Director of Community Relations and Development.
IVCC board chair Jane Goetz added, "Bill's personal involvement at IVCC has inspired all of us. He is an exemplary representative of our college and the community college system. His story demonstrates IVCC's strengths: encouraging students to explore, develop, achieve, and give back to the community."