Bud and Sandy Matthews create scholarship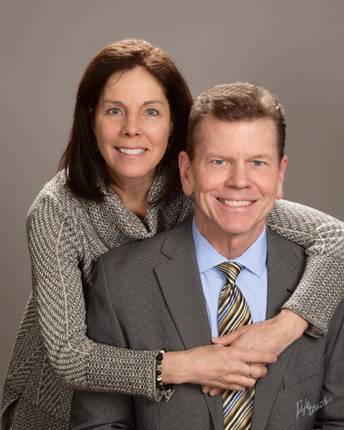 Illinois Valley Community College alumni Bud and Sandy Matthews of Brookfield, Wis., have created a scholarship for Hall High School graduates attending IVCC.
The 1976 Hall alums recently donated $10,000 to the IVCC Foundation to create the Bud and Sandy Matthews Scholarship, a $1,000 annual scholarship to be awarded for the first time this fall.
Bud grew up in Spring Valley, Sandy in Hollowayville. In 1976, Bud was recruited by IVCC football coach Vince McMahon and played two seasons for the Apaches, 1976 and 1977. (Matthews returned to IVCC in 2014 for the 1976 team's induction into the IVCC-LPO Hall of Fame.)
After the 1977 fall semester, Bud earned a football scholarship to Wayne State College in Wayne, Neb., graduating in 1980 with a bachelor's in Business Administration. He immediately went to work for the next 17 years at Hormel Foods in Fremont, Neb., in consumer product sales, marketing and management.
Over the past 21 years, he earned an MBA while working for Smithfield Foods in various executive roles, most recently retiring in December as a Senior Vice President.
Sandy graduated cum laude from the University of Wisconsin-Whitewater with a bachelor's in Education. She has been employed the last 14 years in special education by the Elmbrook School District, Tonawanda Grade School, Elm Grove, Wis. She enjoys working with special needs children who have communicative disorders.
The Matthews will celebrate 39 years of marriage this year and they are the parents of grown children Wesley, Melissa and Nick, two grandchildren and a third on the way.
"Growing up in the Illinois Valley area, graduating from Hall High School and attending IVCC has been a very important part of our early life. We are humbled and proud to be able to help Hall High grads attend IVCC to further their education and career aspirations," said Bud.
IVCC President Jerry Corcoran said the Matthews' reached out to IVCC to create the scholarship.
"This is such a gracious and generous gesture by the Matthews'," Corcoran said. "They truly appreciate the influential role IVCC played in their success and now are providing that same opportunity for other Hall graduates."