Peer Tutoring
Join some of the smartest people on campus ONLINE
Tutoring is still available during the IVCC campus closure!
Online Group Tutoring
MTH1003 College Algebra 9:00-11:00 AM Mondays
PHY1001 Physics I 9:00-11:00 AM Fridays
MTH2001 Calculus I 11:30-12:30 Mondays, Wednesdays, Fridays
MTH1004 Trigonometry 2:00-3:00 PM Mondays, Wednesdays, Fridays
CHM1007 General Chemistry II 11:00-12:00 Tuesdays and Thursdays
CHM1006 General Chemistry I 2:00-3:00 Tuesdays and Thursdays
To join online group tutoring as scheduled, follow this link to the Zoom room: https://zoom.us/my/peertutoring.tl
Individual Tutoring
To request tutoring, email peer_tutoring@ivcc.edu. We'll be monitoring this mailbox Monday through Friday. A tutor will respond and make arrangements for tutoring via email, phone, and/or Zoom. If you need to reach the tutoring coordinator, call 815-224-0479.
We are staffing the virtual center between 8 AM and 6 PM Monday through Thursday and 8 AM and 2 PM Friday. We are not staffed on the weekends. We'll respond to your request as soon as possible.
When normal campus operations resume, we'll publish an updated tutoring schedule and invite students interested in tutoring to contact us.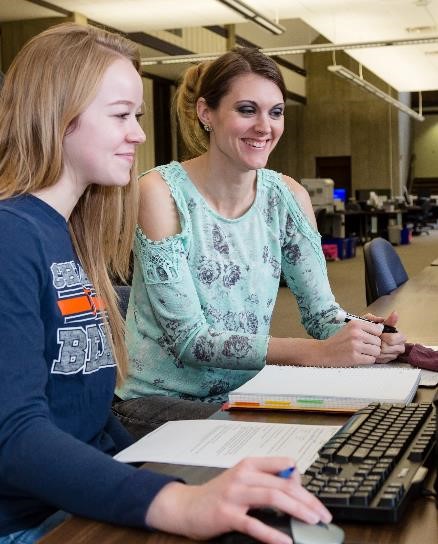 Tutoring Schedule
Tutor Subject Area Expertise and Weekly Schedule
Become a Peer Tutor
Students interested in becoming peer tutors should contact Angela Dunlap.
In order to be a tutor, you must meet these criteria:
You must have earned a "B" or better in the subject you wish to tutor.
An instructor must recommend you or verify your ability to tutor the subject.
You must complete an interview and training process.
Tutors are paid student workers. Therefore, if you are looking for a little extra money and would like the experience of helping others, think of becoming a peer tutor!